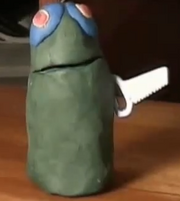 Peter the Pickle is a pickle (you all know that) that kills people. Being a pickle and talking funny gives his funny character. He shows up in Klay World: Friends No More and in his video Peter Pickle (his name has THE in it but thats the name of the video). In Friends No More when he says his name it sounds like he is said PEETA the pickle not Peter.
Ad blocker interference detected!
Wikia is a free-to-use site that makes money from advertising. We have a modified experience for viewers using ad blockers

Wikia is not accessible if you've made further modifications. Remove the custom ad blocker rule(s) and the page will load as expected.